About Sikkim
Perched between Nepal in the west, Bhutan in the east, and Tibet(China ) in the north, Darjeeling (West Bengal) in the south - Sikkim is 7096 square miles in area and contains Mount khanchendzong, the third highest peak in the world. Formerly a kingdom, since 1975 it has been a tiny land-locked state of India.
Sikkim, with its rich biodiversity, has 150 lakes ranging in altitude from 200 meters to almost 8000 meters. A mountainous region in eastern Himalayas has 600 species of birds, or about half the population found in India. Sikkim has 4000 species of flowering plants, making it a botanist's paradise. It has 558 species of orchids, and 39 species of Rhododendrons and around 600 species of Butterflies. Sikkim is rich in avifauna and considered to be a bird watchers' paradise. Its avian population extends to almost 550 species within an altitudinal variation of 200 meters to close to 6000 meters.
Places to Visit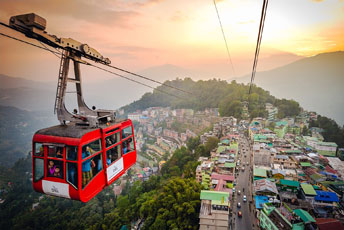 Gangtok
Wreathed in clouds, Gangtok, the capital city of Sikkim is located on a ridge at a height of 5500 feet. With a spectacular view of the Khangchendzonga, the town provides the perfect base for travel through the state.
Once an important transit point for traders traveling between Tibet and India, it is today a busy administrative and business centre and presents an interesting mix of cultures and communities.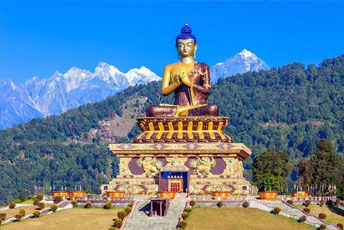 Pelling
Pelling, three to four hours drive west of Gangtok, may be a rather charmless small town but it's the place to go for unparallelled views of Mount Khangchendzonga at dawn.
Apart from the views, monasteries are the main attraction, along with the ruins of Rabdentse. Previously the royal capital of Sikkim from 1670 to 1814, not much remains of Rabdentse these days. However, its location on a ridge provides a spectacular viewpoint.
Flora and Fauna Sanctuaries
Sikkim is renowned for its astounding variety of birds, animals, and flowers -- over 450 species of birds, 400 species of butterflies, 450 varieties of orchids, and 40 species of rhododendron.
Varsey Rhododendron Sanctuary, situated in the Singalila Range in the southwest corner of West Sikkim, is a must-visit place during late spring. You'll find Maenam Wildlife Sanctuary near Ravangla in south Sikkim.
Nathu La
Nathu La, three hours east of Gangtok on the Chinese border, was a major passageway on the Old Silk Route between India and Tibet before it was closed in 1962.
The border consists of a lone barbed wire fence, and you'll get the strange thrill of seeing the Chinese soldiers on the other side. Unfortunately, only Indians are allowed to travel this far though, and only on Wednesdays, Thursdays, Saturdays and Sundays.
Monasteries
In testament to the fact that Sikkim is a marvelous place for meditation, almost 200 monasteries dot the divine hilltops.
The most visited monasteries in Sikkim are Rumtek (overlooking Gangtok), Pemayangtse (near Pelling in West Sikkim), and Tashiding (also in West Sikkim).
The monasteries hold many festivals, particularly around Losar in February/March.