About Thailand
With sixteen million foreigners flying into the country each year, Thailand is Asia's primary travel destination and offers a host of places to visit.Yet despite this vast influx of visitors, Thailand's cultural integrity remains largely undamaged – a country that adroitly avoided colonization has been able to absorb Western influences while maintaining its own rich heritage.
Though the high-rises and neon lights occupy the foreground of the tourist picture, the typical Thai community is still the farming village, and you need not venture far to encounter a more traditional scene of fishing communities, rubber plantations and Buddhist temples. Around forty percent of Thais earn their living from the land, based around the staple rice, which forms the foundation of the country's unique and famously sophisticated cuisine.
Places to Visit
Ao Nang
Formally Ao Phra Nang ("Princess Bay"), Ao Nang is the most popular beach town in Krabi. It was originally a backpacker hotspot but now moving slowly upmarket as the airport brings in higher flyers.
While not quite as scenic as Rai Leh, there is a good range of cheap accommodation, many good restaurants, easy transport and plenty of travel agencies, making it a good base for exploring Krabi.
Floating Markets near Bangkok
To get an idea of what shopping in Bangkok used to be like before all the canals were filled in, many people visiting the capital take a day trip to one of the floating markets outside the city. Though today floating markets typically function as tourist attractions and community meeting places rather than vital aspects of local farming economies, they still remain vibrant places brimming with scrumptious food.
The most popular floating market for foreign tourists is Damnoen Saduak while most Thai favor the Amphawa Floating Market.
Prasat Hin Phimai
Prasat Hin Phimai boasts some of the most impressive Khmer ruins in Thailand. Similar in style (if much smaller) than those at Angkor, the temples were built during the 11th and 12th century, during which time the area was part of the Khmer empire.
Though built as a Mahayana Buddhist temple, the carvings also feature many Hindu deities as explained in the visitor center.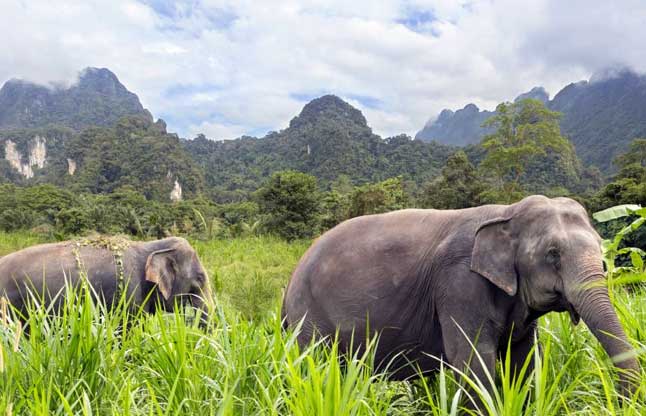 Khao Yai National Park
The third-largest national park in Thailand, Khao Yai National Park is located in the eastern part of the country in the Nakhon Ratchasima Province.
Homes to a wide array of wildlife, including Asian elephants and black bears, the park offers observation towers, hiking trails, lodges, cabins and campsites. There are even dinosaur footprints, so visitors find surprises at every turn.
Mu Ko Ang Thong
Ang Thong, which means "Bowl of Gold," is a popular national park in the Gulf of Thailand. Consisting of 42 islands, which are close together for easy island hopping, the park is headquartered on Ko Wua Talap.
There, travelers can stay in lovely bungalows and take in incredible views of the surrounding islands and bizarre rock formations. Exploring the island's white sand beaches and snorkeling among the shallow coral gardens makes a popular day trip from Ko Samui.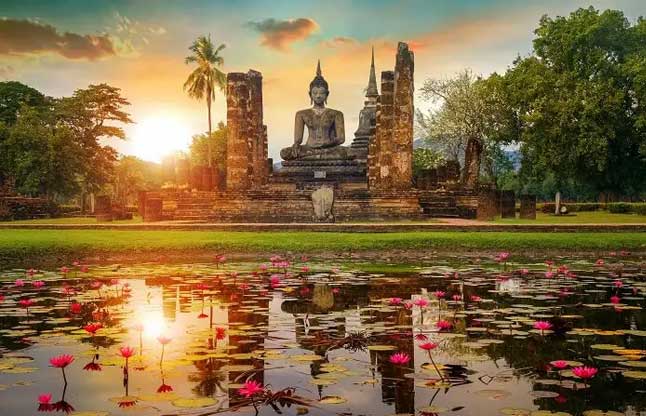 Sukhothai Historical Park
Located in northern Thailand, Sukhothai Historical Park contains the ruins of Sukhothai, which was the capital of the kingdom of the same name during the 13th and 14th centuries.
Roughly translating to mean "Dawn of Happiness," the walled-in park contains nearly 200 sets of ruins, including 26 temples and the Royal Palace. In addition to exploring the many fascinating wats and other ruins, visitors can learn more about the Sukhothai culture at the Ramkhamhaeng National Museum.
Ko Nang Yuan
Ko Nang Yuan is a tiny island very close to Ko Tao. It is a popular day trip from Ko Tao, so its beautiful beaches can be crowded at times. But it's a pretty island and its clear waters are perfect for snorkeling and scuba diving.
To visit this island, travelers who are not staying on Ko Nang Yuan must pay a 100 baht fee. The island does have one dive resort for travelers who prefer to stay on this small island.